Introduction
Wooden flooring display stands are a crucial component of any business that deals with wooden flooring products. The primary function of these display stands is to showcase the various types of flooring materials such as hardwood, engineered wood, and laminate. They help customers see and feel the quality and texture of the flooring, making it easier for them to make informed purchase decisions. In this article, we will discuss the knowledge required for wooden flooring display stands, including the benefits of using them, factors to consider when choosing a display stand, the importance of design, organizing the samples, and maintenance.
Benefits of Using Wooden Flooring Display Stands
A well-designed wooden flooring display stand offers several benefits for businesses. Firstly, it creates a professional and attractive presentation of the products, which can draw potential customers to your store or showroom. It showcases your products in a way that makes them stand out, encouraging customers to spend more time browsing and considering their options. Secondly, a wooden flooring display stand can help create a cohesive and inviting atmosphere in your store or showroom, improving customer experience and increasing the likelihood of making sales.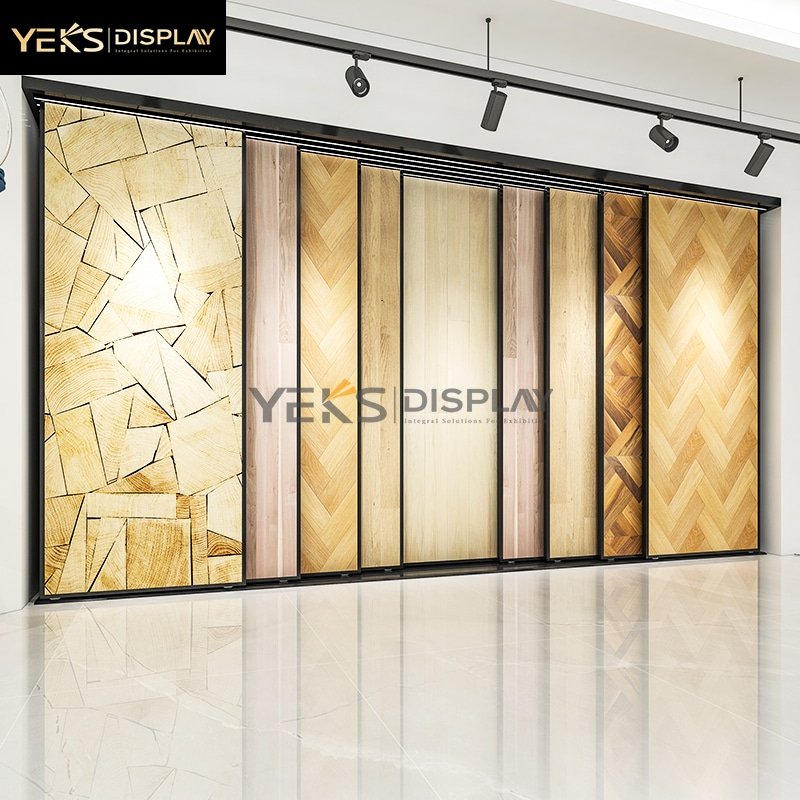 Factors to Consider When Choosing a Wooden Flooring Display Stand
There are several factors to consider when choosing a wooden flooring display stand. Firstly, it is essential to select a stand that is sturdy and well-built, capable of holding the weight of your flooring samples without collapsing. Additionally, the stand should be visually appealing, with a design that complements your brand and the overall aesthetic of your store or showroom. The size of the stand is also crucial, as it should be large enough to showcase different flooring options without overwhelming the space. Furthermore, the height of the stand should be carefully considered to ensure that the flooring samples are easily accessible and visible to customers.
Design of the Wooden Flooring Display Stand
The design of the wooden flooring display stand is another critical aspect to consider. There are several design options to choose from, including minimalist designs with clean lines and neutral colors that allow the flooring samples to take center stage. Other options include stands that incorporate decorative accents or intricate patterns to create a visually striking display. When selecting a design, it is important to consider the overall aesthetic of your store or showroom and how the stand will fit in with it.
Organizing the Flooring Samples
Organizing the flooring samples is crucial to create a user-friendly experience for customers. You may want to consider organizing your flooring samples by type, color, or price point, depending on your customers' preferences. A well-organized display can make it easier for customers to navigate and compare different options, increasing the likelihood that they will find a product that meets their needs.
Maintenance of the Wooden Flooring Display Stand
Maintaining the wooden flooring display stand is crucial to ensure that it continues to look its best. Regular dusting and cleaning are essential to prevent dirt and debris from accumulating on the surface and detracting from the appearance of your flooring samples. You may also want to periodically rotate your samples or update the design of your display to keep it fresh and engaging for customers.
Conclusion
In conclusion, wooden flooring display stands are an essential tool for businesses that specialize in selling or promoting wooden flooring products. They offer several benefits, including creating a professional and attractive presentation of your products, creating a cohesive and inviting atmosphere in your store or showroom, and improving customer experience. When choosing a wooden flooring display stand, it is essential to consider factors such as sturdiness, visual appeal, size, and height. The design of the stand is also important and should complement the overall aesthetic of your store or showroom. Organizing the flooring samples is crucial to create a user-friendly experience, and maintaining the stand is necessary to ensure that it continues to look its best. By investing in a quality wooden flooring display stand, businesses can improve their bottom line by attracting potential customers, building their brand,