How to Customize a Unique Stone Display Rack to Boost Your Sales?
As a stone industry practitioner, you are well aware that Stone Display Rack is very important for your product sales. A unique and state-of-the-art Stone Display Rack will not only make your products more appealing, but it will also help you increase your sales. In this article, we will explore how to customize a unique Stone Display Rack to boost your sales and make your products stand out in a competitive market.
Consider your brand image
Regardless of what type of stone products you carry, considering your brand image is always an integral aspect. Your Stone Display Rack should be part of your brand image, not just a way to display your products. And, your Stone Display Rack should be consistent with your brand, with the brand logo and brand colors well represented. By doing so, you maintain a consistent and brand-recognizable image.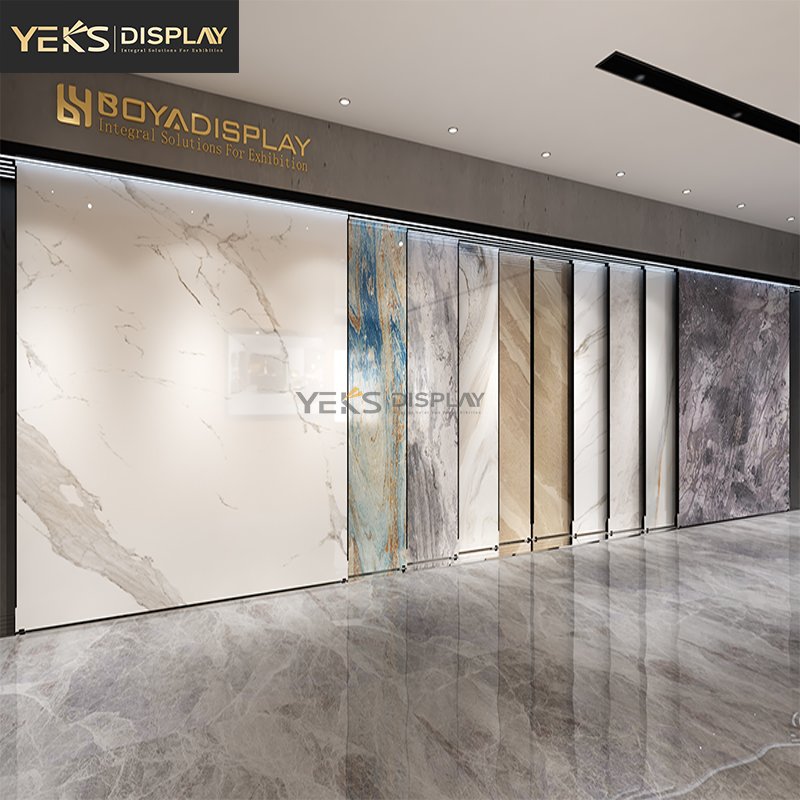 Determine Your Target Consumer Group
In considering the design and production process of your Stone Display Rack, you should consider your target consumer group. These are likely to be business customers, professional contractors or home improvement owners. You should consider your display based on their needs. If your primary customers are home improvement homeowners, then you need a more attractive and decorative Stone Display Rack to grab their attention.
Accurately Measure and Consider Display Space
Before purchasing and installing a Stone Display Rack, you must accurately measure your display space so that you can ensure that the size and shape of your Stone Display Rack is suitable for your venue. You need to consider the height, width and depth of the display space to ensure that there will still be enough room for customers or staff to enter and exit once your Stone Display Rack is installed.
Choosing the right display style
The display style is central to the design of your Stone Display Rack. You need to choose a display style that will both showcase your products and increase sales. This may involve different display styles such as multi-level display racks, rotating or panning racks, hanging display racks and so on. The latest designs are often ergonomic, taking into account consumer habits and behavior while ensuring product display and overall ambiance.
Meet product display needs
Whether your product type is large stone panels, decorative stone products or small stone samples, your Stone Display Rack should be able to meet your product display needs. Size, shape, color and material selection should take into account the product display needs. The best way is to choose environmentally friendly materials, so that the customer's experience does not only stop at the product display process, but also have a deep consumption process, feelings during the purchase process and concern for environmental organizations or companies.
Creative Design
Your Stone Display Rack should be different and creative. You can add simple decorations, custom patterns, various color adjustments or other special design elements to your Stone Display Rack. This will leave a long-lasting impression on consumers and help you increase your sales figures. Moreover, a unique Stone Display Rack can increase your brand recognition and bring you additional brand exposure.
Choose High Quality Materials
High-quality materials are an important factor in making a Stone Display Rack. Your Stone Display Rack materials should be durable and easy to clean and maintain. The quality and toughness of the steel frame, stainless steel, solid wood or faux marble surfaces need to be guaranteed. These high-quality materials will not only increase the longevity and durability of your Stone Display Rack, but will also enhance the quality of your product.
Utilizing Lighting Wisely
Lighting and illumination are critical to the design and production of Stone Display Rack.Using lighting can make your products look more appealing and enhance their color and quality. You should make sure that your lighting effects are consistent with the style and design of your Stone Display Rack. For example, if your product is in a classic style, then you can use bronze-colored lighting to create its elegant and noble qualities.
Summary
Customizing a unique Stone Display Rack can increase your sales and bring additional exposure and recognition to your brand.During the design and production process, you should consider your brand image, target consumers, display space, display method, product display needs, creative design, selection of high-quality materials and rational use of lighting.Through these measures, you can ensure that your products can stand out in the fierce market competition and your customers will be more willing to buy your products, thus increasing your sales figures.