Rotating Flooring Display Stands Double Size 360 Rotating Double Size Wood Flooring Sample Display Stand
| | |
| --- | --- |
| Material: | Metal,plastic,wood,MDF or Custom |
| Size | 300*600-600*600-800*800-900*900-600*1200-1200*2400mm customized |
| Color: | Black, white, grey, etc or Custom |
| Usage: | Advertising,  Display, Exhibition, Promotion for ceramic tile |
| Surface Treatment: | Polishing, Powder Coating, Painting Etc or Custom |
| Sample Cost: | 3 Times of Quotation |
| Sample Time: | 7~10 days |
| Production Time: | 20~30 days |
| Packing: | Use bubble pack, stretch film, strong export carton and, pallet packing. |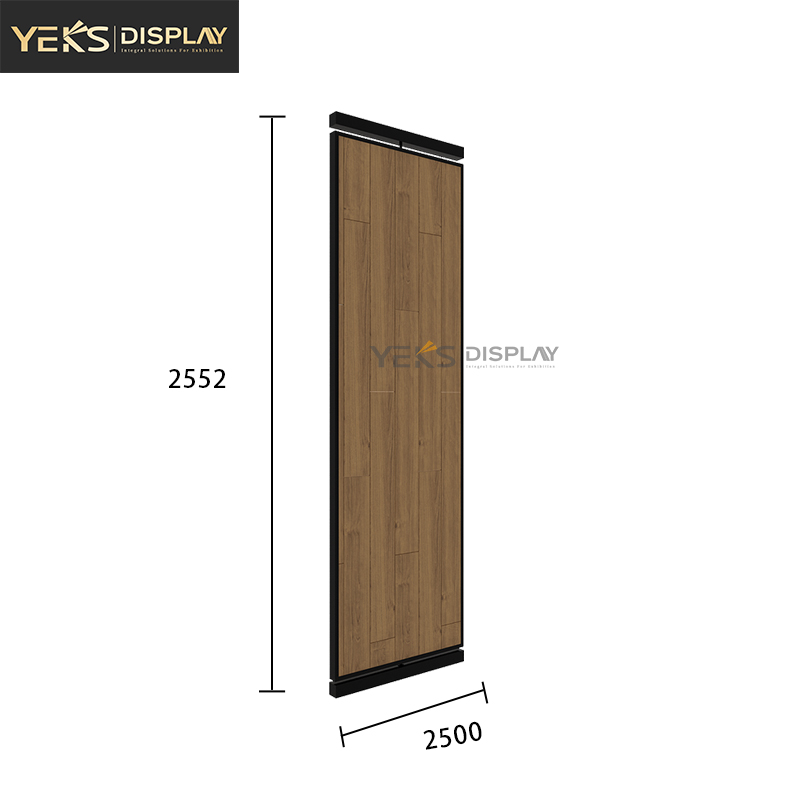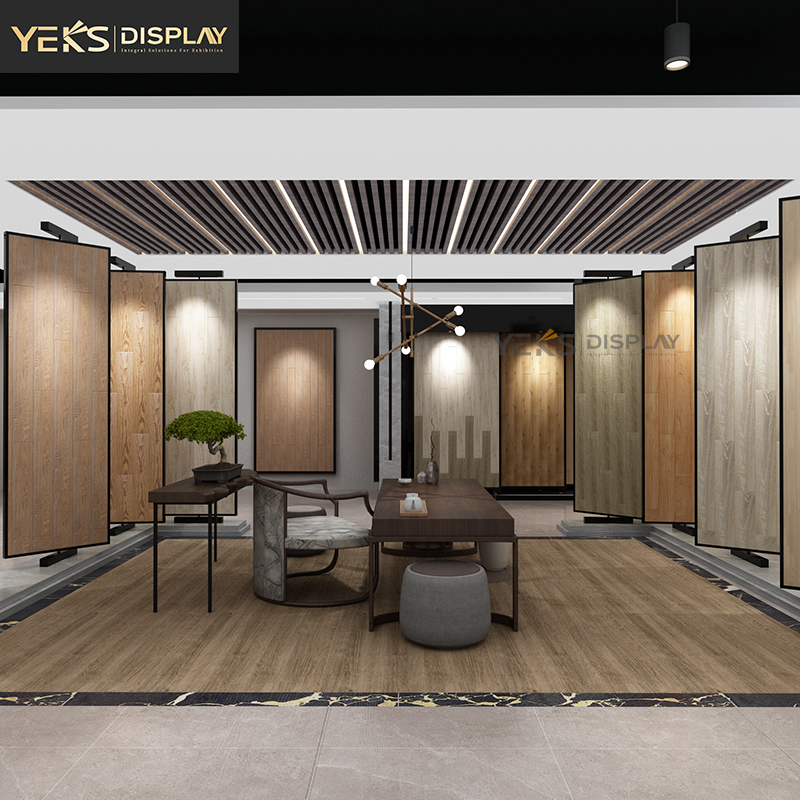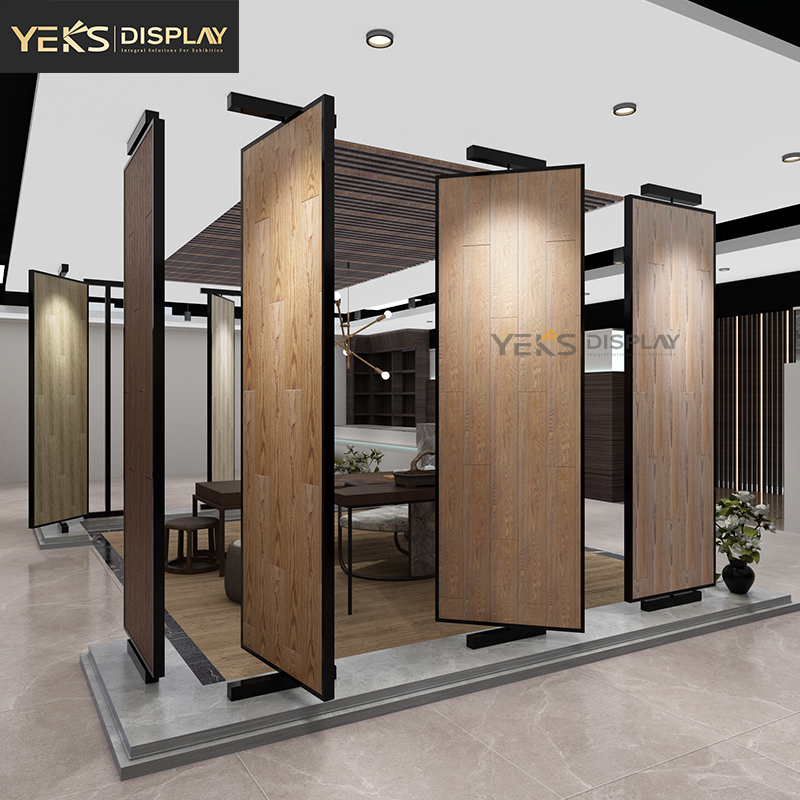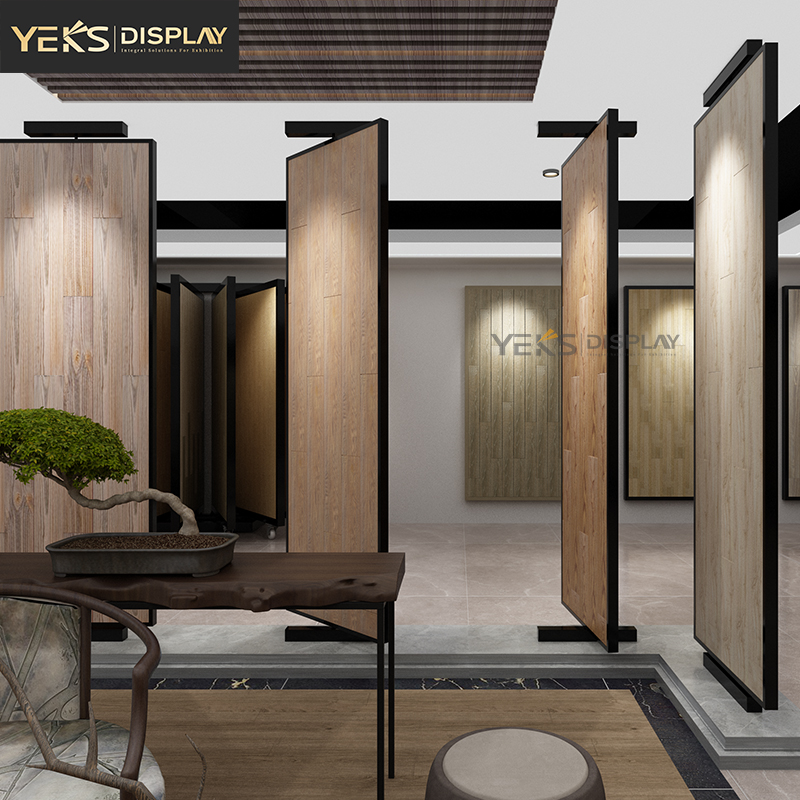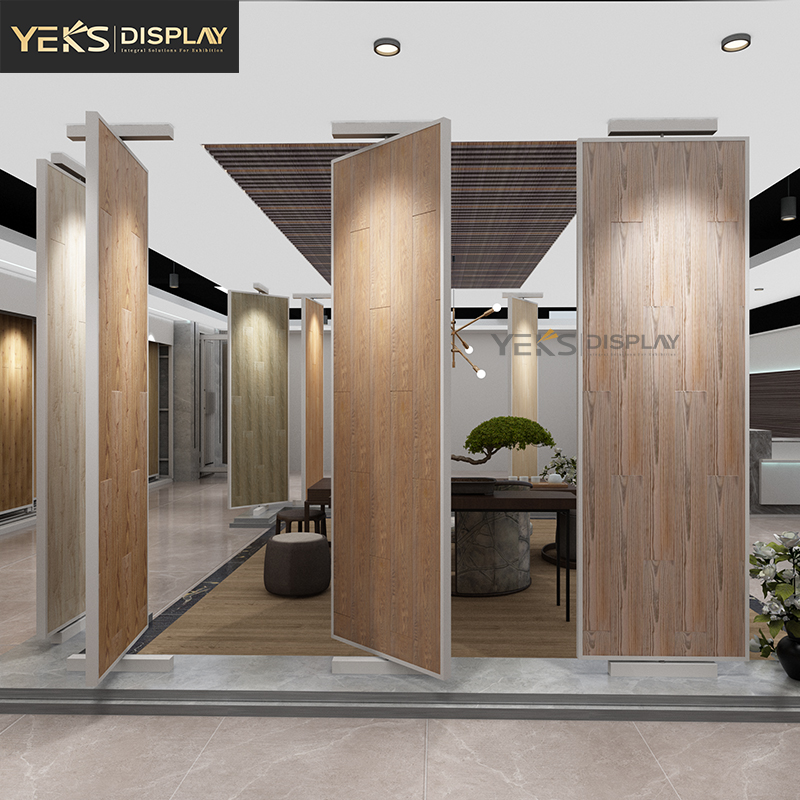 Rotating flooring display stand is a specialized fixture or stand designed to showcase and organize different types of flooring materials, such as tiles, laminates, hardwood, or vinyl. The stand incorporates a rotating mechanism that allows customers to easily browse and view different flooring options without the need for manual handling or moving of the samples. It offers a convenient and interactive way for customers to explore the various flooring choices available.
Here are some key features of a rotating flooring display stand:
Rotating Mechanism: The stand incorporates a rotating mechanism, usually powered by a motor or manual operation, that enables the display to rotate smoothly. This allows customers to access and view different flooring samples without the need to physically move around the stand.
Shelves or Panels: The stand consists of shelves or panels where flooring samples are displayed. These shelves or panels are designed to securely hold the flooring materials while allowing easy visibility and access. They may be adjustable to accommodate different sizes or types of flooring.
Display Capacity: The stand can hold a significant number of flooring samples, offering a wide range of options for customers to explore. The capacity can be customized based on the specific requirements and available space.
Clear Product Visibility: The design of the stand ensures that each flooring sample is clearly visible to customers. This may involve open shelving, transparent panels, or strategically positioned display angles to showcase the colors, textures, and patterns of the flooring materials effectively.
Ease of Rotation: The rotating mechanism should operate smoothly and effortlessly, allowing customers to browse the flooring samples with ease. It should be designed to handle the weight of the flooring materials and ensure a consistent and controlled rotation.
Durability and Stability: The stand is constructed using durable materials to withstand the weight of multiple flooring samples and provide stability during rotation. It should be sturdy and well-balanced to prevent tipping or wobbling.
Branding and Customization: The stand can be customized to incorporate branding elements, such as logos, colors, or graphics, to align with the company's brand identity. It may also include customizable signage or labeling to provide product information or pricing.
Space Optimization: The stand should be designed to optimize the use of available space, ensuring efficient use of floor area while providing ample display space for the flooring samples. It should be functional and visually appealing, enhancing the overall shopping experience.
A rotating flooring display stand offers a unique and interactive way to showcase flooring materials, allowing customers to easily explore the options available. It facilitates engagement, improves visibility, and helps customers make informed decisions when selecting the right flooring for their needs.
Product Detail
2.0mm thickness steel tube.
Polishing, powder coating, painting etc or custom.
Seamless welding technology.
The display rack adopts high quality pulley, the wheel pushes the wear-resisting smooth without noise, prolongs the service life.
Rail material: stainless steel/aluminum.
Easily assembly the tile display rack and load the products.
Usage
Ceramic tile store.
Ceramic tile store showroom.
Ceramic tile store fair or exhibition.
Ceramic tile store show.
Remark
The thickened home control is made of strong load-bearing capacity.
Advanced baking process, not easy to rust off paint.
Selection of high quality roller skating, to ensure that the push and pull easy no noise.
Unique design style, beautiful at the same time, save space.
This tile display rack can display samples in all directions, allowing customers to have a better experience.
Simple and elegant appearance, brief introduction to enhance the grade of the sample.