Pull And Push Hardware sample Display Rack For Showroom
Pull And Push Hardware sample Display Rack is designed to display the sanitary ware items in exhibition. With Boya bathroom ware display racks, your samples will be sorted neatly and elegantly, it will makes your products more attractive. Furthermore, you can replace your samples very easy.
| | |
| --- | --- |
| Material: | Metal,plastic,wood,MDF or Custom |
| Size | Customized |
| Color: | Black, white, grey, etc or Custom |
| Usage: | Advertising,  Display, Exhibition, Promotion for ceramic tile |
| Surface Treatment: | Polishing, Powder Coating, Painting Etc or Custom |
| Sample Cost: | 3 Times of Quotation |
| Sample Time: | 7~10 days |
| Production Time: | 20~30 days |
| Packing: | Use bubble pack, stretch film, strong export carton and, pallet packing. |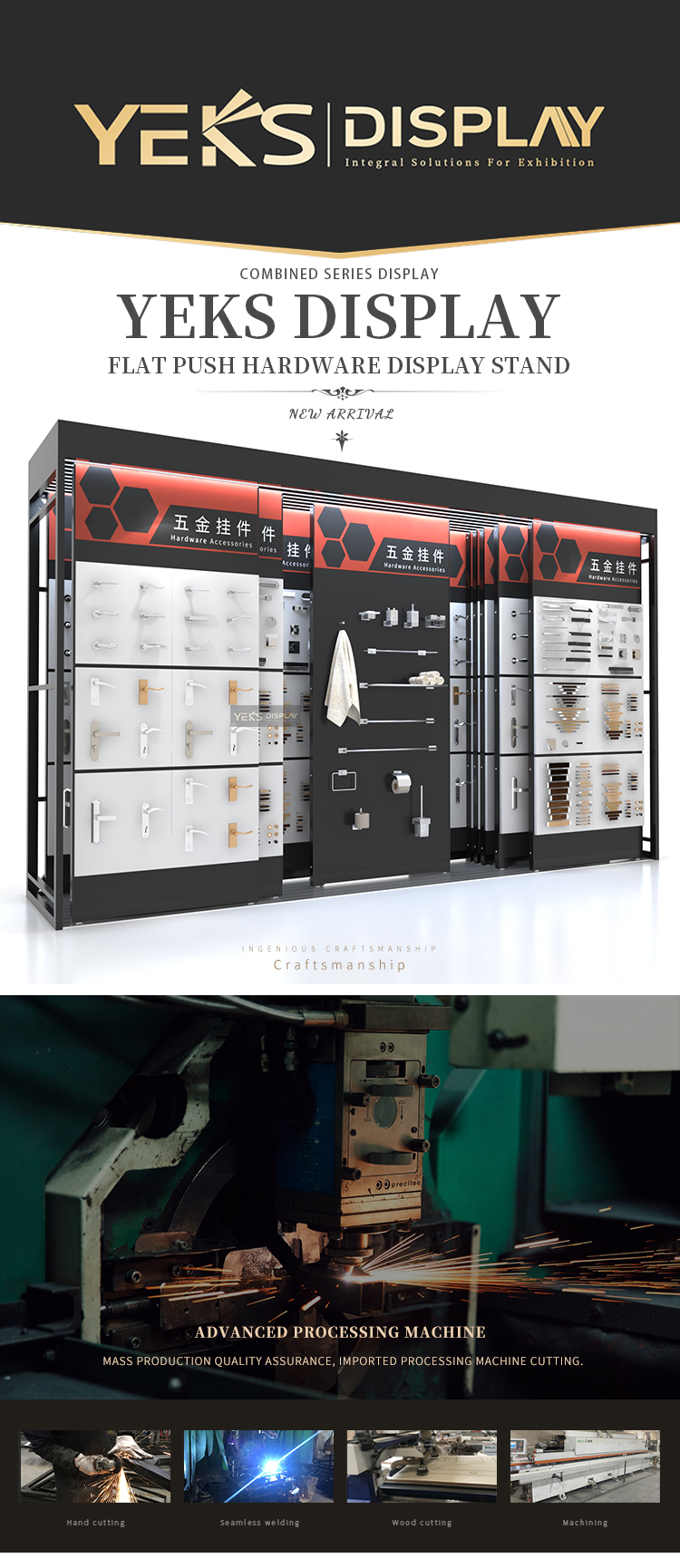 A hardware display rack is a specialized fixture or stand used to showcase and organize various hardware products. It is commonly found in hardware stores, home improvement centers, or retail outlets specializing in tools and equipment. The rack is designed to effectively present hardware items, making it easier for customers to browse and select the products they need.
Here are some features commonly found in hardware display racks:
Shelving or Compartments: The rack consists of multiple shelves, compartments, or hooks to hold and display different types of hardware products. These compartments are designed to accommodate various sizes, shapes, and weights of items such as tools, fasteners, plumbing fixtures, electrical components, and more.
Organization and Categorization: The rack provides a systematic arrangement of hardware products, often categorized by type or function. This helps customers locate specific items and makes it easier to compare similar products.
Clear Product Visibility: The display rack is designed to showcase the hardware items clearly, ensuring that customers can easily see and identify the products. This may involve open shelving, transparent or labeled compartments, or strategically positioned hooks or hangers.
Accessibility: The rack allows customers to access and handle individual hardware items for closer inspection. It should provide easy and convenient access while keeping the products securely in place.
Durability: Hardware products can be heavy or have sharp edges, so the display rack is typically constructed from sturdy materials such as metal or heavy-duty plastic. This ensures the rack can support the weight of the items and withstand regular use without damage.
Adjustable Components: Some hardware display racks feature adjustable shelves, hooks, or dividers. This allows for flexibility in accommodating different product sizes and configurations. Adjustable components also enable easy rearrangement or customization of the display based on inventory changes or promotional needs.
Signage and Pricing: The display rack often incorporates signage or pricing tags to provide information about the products, including descriptions, specifications, or pricing. Clear and visible signage helps customers make informed purchasing decisions.
Branding and Marketing: Hardware display racks may be designed to incorporate branding elements, such as logos, colors, or graphics, to enhance brand recognition and promote specific products or promotions.
Hardware display racks are essential for hardware retailers to effectively showcase their range of products. They provide a visually appealing and organized display, making it easier for customers to find the hardware items they need and encouraging impulse purchases.
The above is an introduction to the Pull And Push Hardware sample Display Rack. If you need any information about the display stand products, you can click here