Rotating wood floor display stand for showroom used
Rotating wood floor display stand is designed to display the wooden flooring samples in a small footprint. This style of showcase brings a focus to your product. We manufacture according to your sample size and thickness, display as many samples as you need, and then choose your color.
| | |
| --- | --- |
| Material: | Metal,plastic,wood,MDF or Custom |
| Size | 150*1220-200*1220mm customized |
| Color: | Black, white, grey, etc or Custom |
| Usage: | Advertising,  Display, Exhibition, Promotion for hardwood flooring |
| Surface Treatment: | Polishing, Powder Coating, Painting Etc or Custom |
| Sample Cost: | 3 Times of Quotation |
| Sample Time: | 7~10 days |
| Production Time: | 20~30 days |
| Packing: | Use bubble pack, stretch film, strong export carton and, pallet packing. |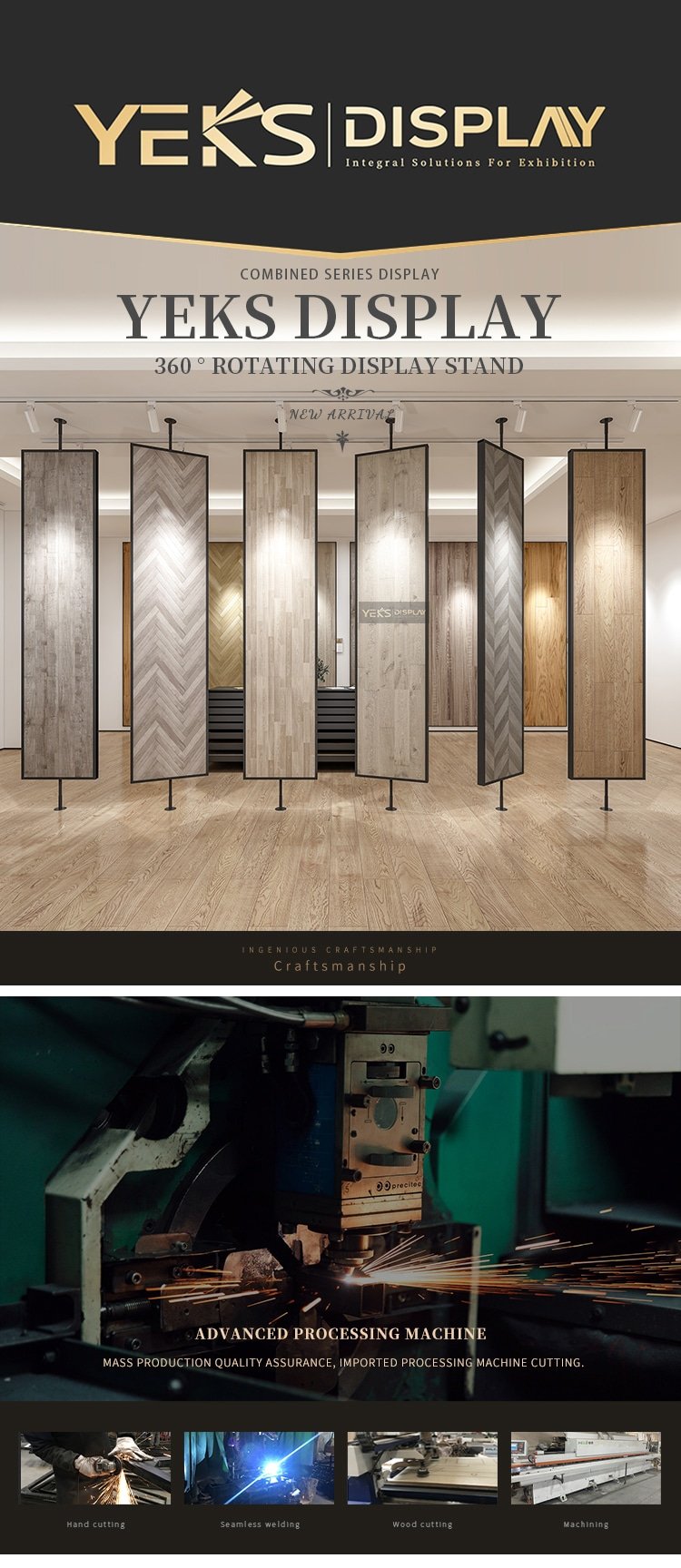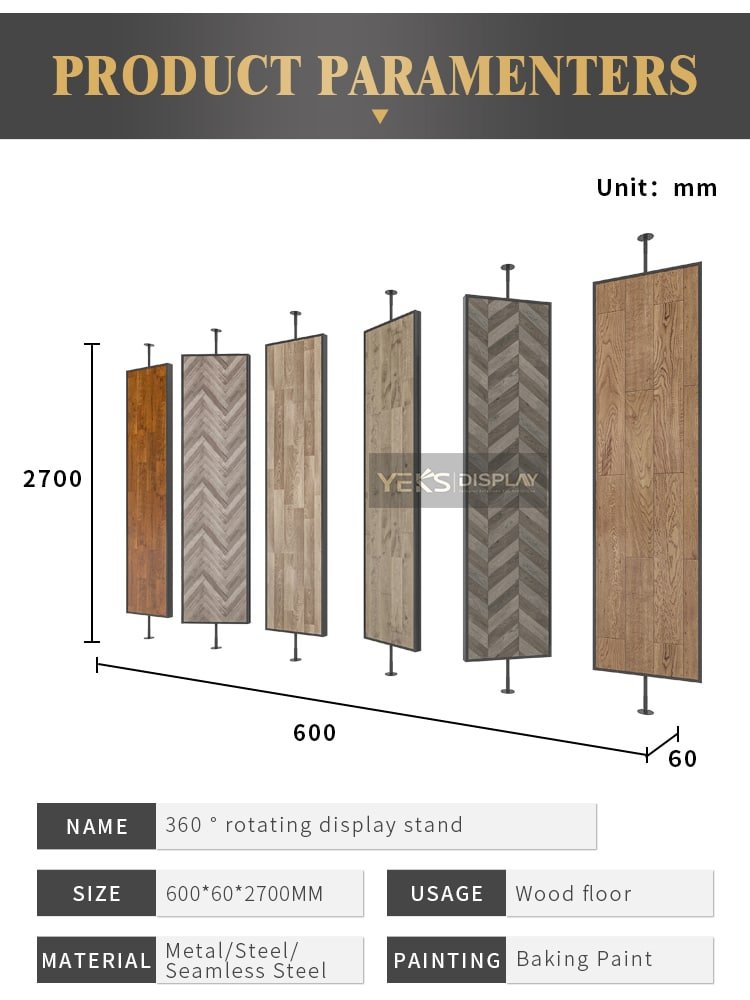 Rotating wood floor display stand is the perfect solution for showcasing your products in a stylish and organized manner. Designed with convenience and functionality in mind, this display stand is a must-have for any retail setting.
Rotating Design: The Rotating wood floor display stand allowing customers to easily browse through all your displayed items. Whether it's jewelry, accessories, or small electronics, this rotating feature ensures that every product gets noticed.
Wooden Construction: Made from high-quality wood, this display stand is not only durable but also adds a touch of elegance to any space. The natural wood finish complements a variety of interior styles, making it a versatile choice for different retail environments.
Adjustable Shelves: The rotating wood floor display stand is equipped with adjustable shelves, enabling you to customize the layout according to your product dimensions. This versatility allows you to accommodate a wide range of merchandise, maximizing the use of space and optimizing product visibility.
Compact and Space-saving: The compact design of the display stand ensures that it doesn't take up much floor space, making it ideal for smaller retail areas. Its sleek and slim profile allows for easy placement in corners or against walls, optimizing your store layout.
Easy Assembly: The display stand comes with a simple assembly process, requiring no additional tools. The package includes step-by-step instructions, making it hassle-free to set up and start using in no time.
Enhanced Product Visibility: The rotating feature of the display stand ensures that every item is easily visible and accessible to customers. This helps in increasing product exposure and potential sales.
Improved Customer Experience: With a 360-degree view of products, customers can conveniently browse through the displayed items. This creates a more engaging shopping experience and encourages longer stays in your store.
Versatile and Flexible: The adjustable shelves allow you to display a variety of products of different sizes and shapes. This flexibility caters to the ever-changing demands of your inventory while ensuring a tidy and organized display.
Durability: The wooden construction of the display stand ensures its longevity, making it a reliable investment for your retail business. The sturdy design can withstand regular usage and continuous rotation without compromising its functionality.
Attention-grabbing Presentation: The natural wood finish of the display stand adds a touch of elegance and sophistication to your products. This attractive presentation helps in capturing customers' attention and boosting the perceived value of the displayed items.
In conclusion, the Rotating wood floor display stand is a versatile and functional solution for showcasing your products in a stylish and organized manner. With its rotating design, adjustable shelves, and durable construction, this display stand is an essential addition to any retail space. Maximize product visibility, improve customer experience, and create a visually appealing display with this must-have retail