Pull and push Tile Displays Rack Stone Display Stand for sale
Pull and push Tile Displays Rack Stone Display Stand for sale is designed to display the ceramic tile samples in a small footprint. This style of showcase brings a focus to your product. We manufacture according to your sample size and thickness, display as many samples as you need, and then choose your color. As with all of our tile exhibits, this idea can be extended or minimized to meet your specific needs. This style is perfect for the show ( stone, marble, granite, tile, carpet, wooden door, or hardwood)
| | |
| --- | --- |
| Material: | 2.0mm thickness seamless steel |
| Size | 300*600-600*600-800*800-900*900-600*1200-1200*2400mm( free customized) |
| Color | Black, white, grey, etc or Custom |
| Usage | Advertising,  Display, Exhibition, Promotion for ceramic tile |
| Surface Treatment | Polishing, Powder Coating, Painting Etc or Custom |
| Sample | Available |
| Sample Time: | 1-2 weeks |
| Production Time: | 2-3 weeks |
| Packing: | Use bubble pack, stretch film, strong export carton and, pallet packing. |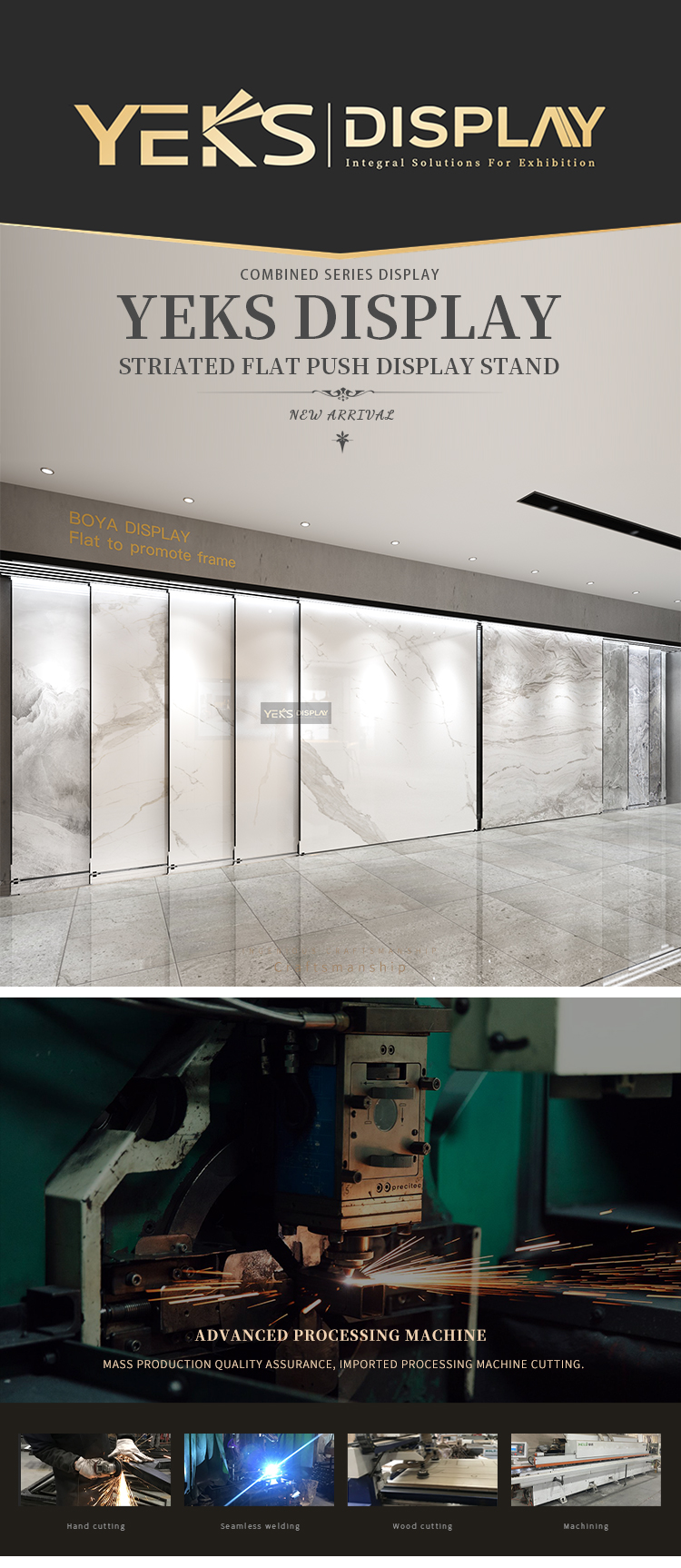 A pull and push tile display rack is a type of fixture specifically designed for showcasing and organizing tiles in a retail or showroom environment. It provides easy access to customers, allowing them to slide out or push in the tiles for viewing and selection. This type of display rack maximizes space efficiency and enhances the overall customer experience. Here are some features commonly found in pull and push tile display racks:
Sliding Mechanism: The rack is equipped with a sliding mechanism that allows the tiles to be pulled or pushed horizontally. This mechanism enables customers to view different tile options without the need for lifting or rearranging heavy stacks.
Multiple Shelves: The display rack consists of multiple shelves or compartments to hold different tile sizes, designs, or materials. Each shelf is designed to support the weight of the tiles and smoothly slide in and out.
Tile Protection: The rack is designed to protect the tiles from damage or scratches during handling. It may feature rubberized or non-slip surfaces on the shelves to prevent tiles from sliding or shifting while being pulled or pushed.
Display Capacity: Pull and push tile display racks can accommodate a significant number of tiles, making it easy for customers to compare various options side by side. The display capacity depends on the size and configuration of the rack.
Customization Options: Depending on the manufacturer or retailer, pull and push tile display racks may offer customization options. This can include adjustable shelves, different shelf sizes, or the ability to accommodate specific tile dimensions.
Visual Appeal: The display rack is often designed to be visually appealing, with a clean and modern aesthetic that complements the tiles being showcased. This can enhance the overall presentation and attract customers' attention.
Easy Installation: Pull and push tile display racks are typically designed for easy installation and maintenance. They may come with assembly instructions and require minimal tools for setup.
It's important to note that the specific design and features of pull and push tile display racks can vary depending on the manufacturer and the requirements of the retail or showroom space.