Cabinet door page turning display rack stand for showroom
Page turning display racks, designed to enhance the shopping experience for customers and increase sales for businesses. Cabinet door page turning display rack is designed to display the wooden door samples in a small footprint. This style of showcase brings a focus to your product. We manufacture according to your sample size and thickness, display as many samples as you need, and then choose your color. As with all of our door display rack , this idea can be extended or minimized to meet your specific needs. This style is perfect for the show ( stone, marble, granite, tile, carpet, wooden door, or hardwood)
| | |
| --- | --- |
| Material: | Metal,plastic,wood,MDF or Custom |
| Size | 800*2000-900*2100mm customized |
| Color: | Black, white, grey, etc or Custom |
| Usage: | Advertising,  Display, Exhibition, Promotion for door |
| Surface Treatment: | Polishing, Powder Coating, Painting Etc or Custom |
| Sample Cost: | 3 Times of Quotation |
| Sample Time: | 7~10 days |
| Production Time: | 20~30 days |
| Packing: | Use bubble pack, stretch film, strong export carton and, pallet packing. |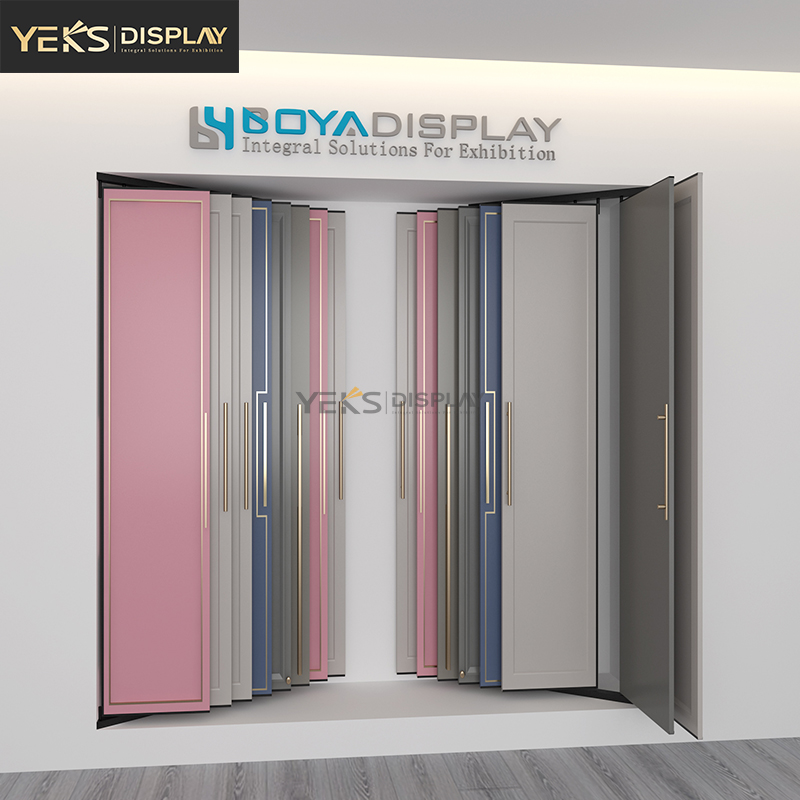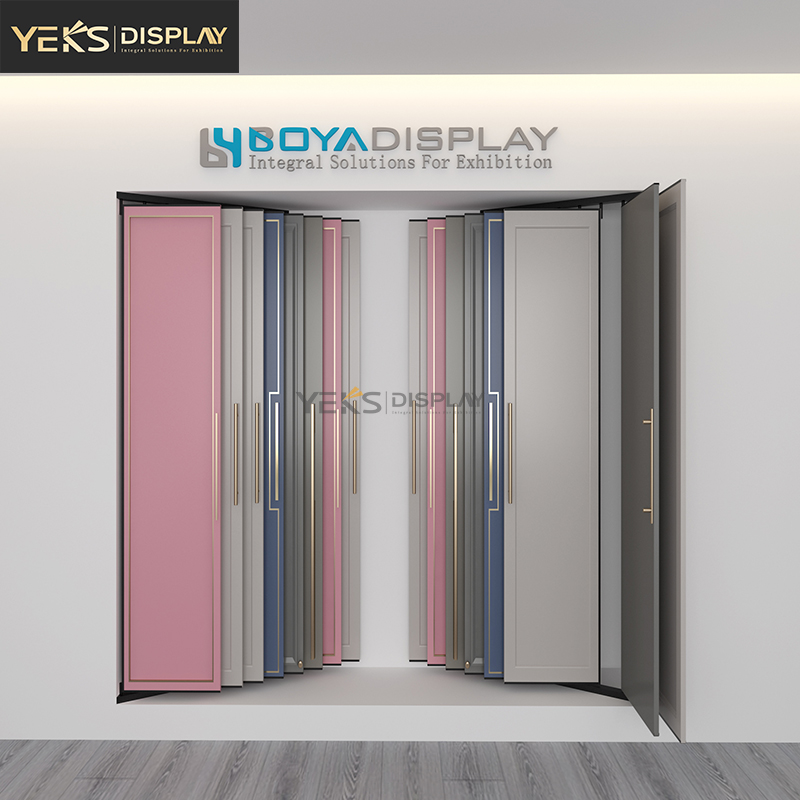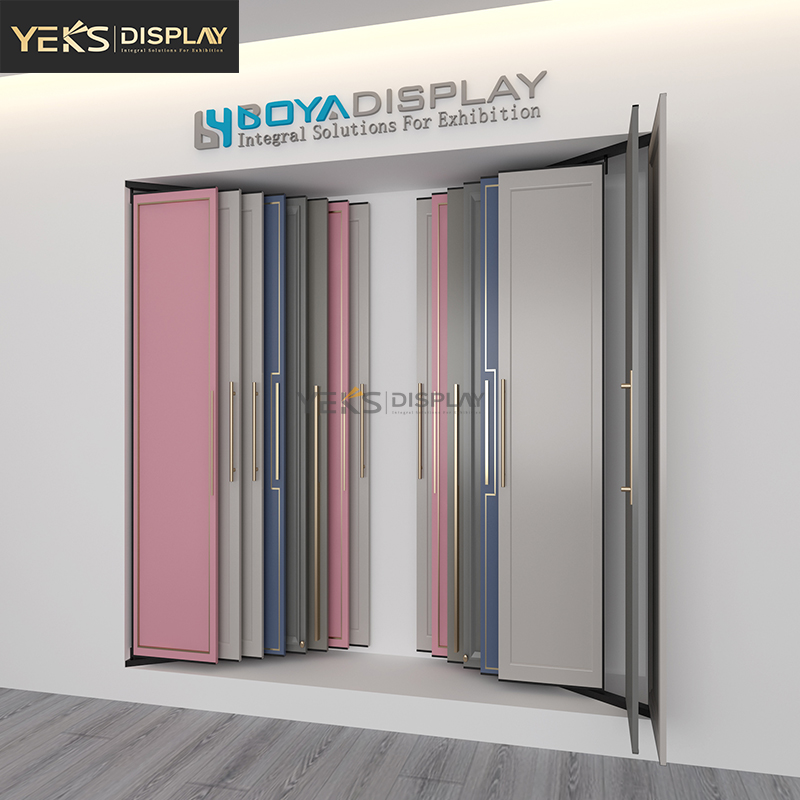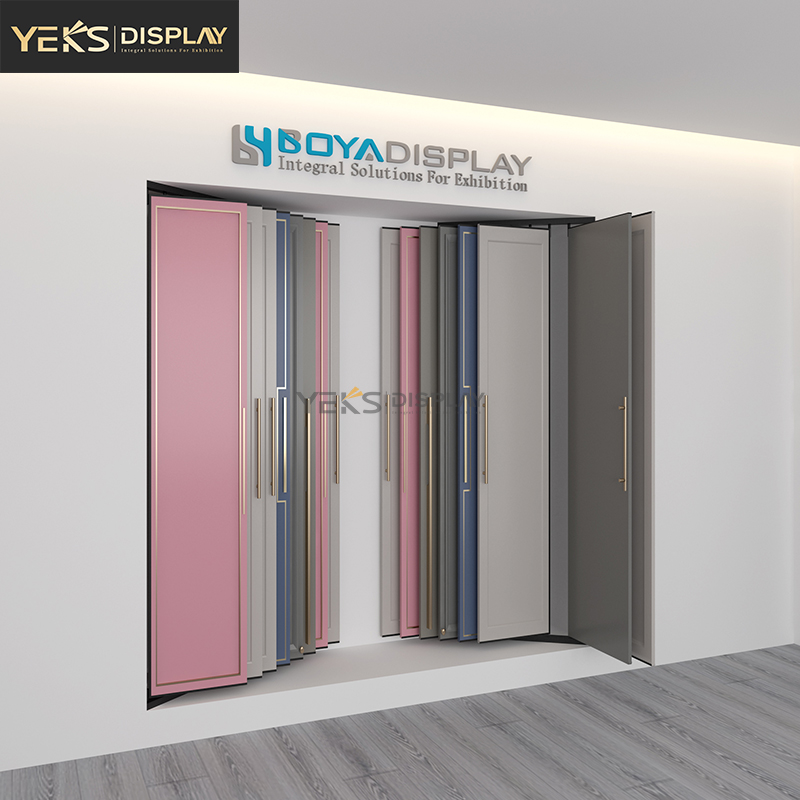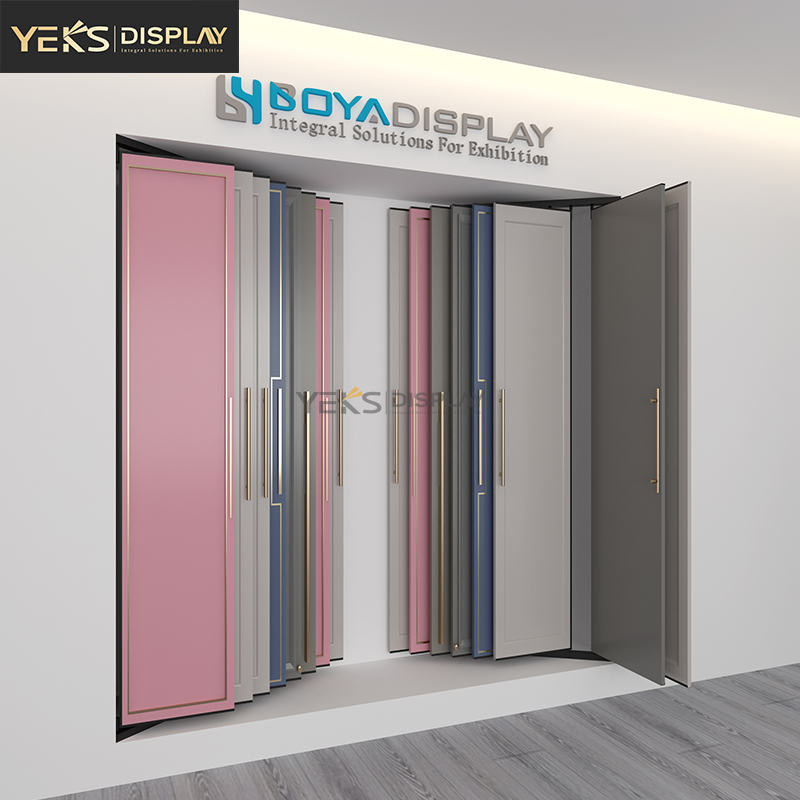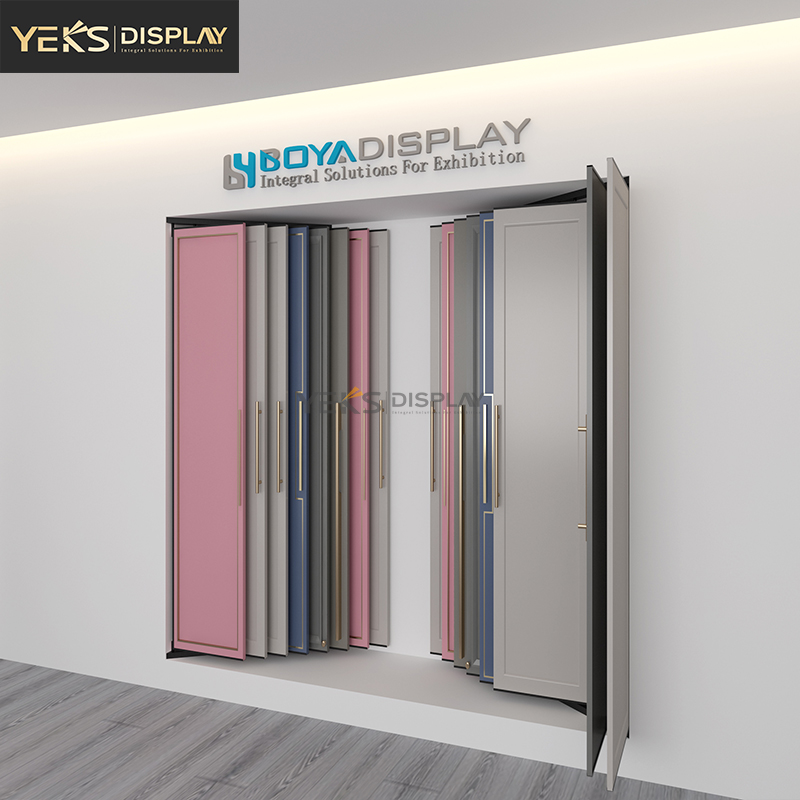 Our page turning display racks feature a sleek and modern design, with a rotating mechanism that allows customers to easily browse through a variety of products. The racks are made from high-quality materials, ensuring durability and longevity even with heavy usage.
With our page turning display racks, businesses can showcase a wide range of products in a compact and organized manner. Customers can easily flip through pages of merchandise, making it easier for them to find what they are looking for. This convenience and ease of use can lead to increased sales for businesses, as customers are more likely to make a purchase when they can easily browse and find what they need.
Our page turning display racks are also customizable, allowing businesses to showcase their branding and messaging in a prominent way. This can help to build brand recognition and loyalty among customers.
In addition to their practical benefits, our page turning display racks also add an aesthetic appeal to any retail space. Their sleek and modern design can help to elevate the overall look and feel of a store, making it more inviting and attractive to customers.
Overall, our page turning display racks are a must-have for any business looking to improve their in-store experience and increase sales. Their convenience, durability, and customizable design make them a valuable investment for any retail space.
Product Detail
1. 2.0mm thickness steel tube.
2.Polishing, powder coating, painting etc or custom.
3.Seamless welding technology.
4.The display rack adopts high quality pulley, the wheel pushes the wear-resisting smooth without noise, prolongs the service life.
5.Rail material: stainless steel/aluminum.
6.Easily assembly the tile display rack and load the products.
Usage
1.door and window store.
2.door and window showroom.
3.door and window fair or exhibition.
4.door and window show.
Remark
1.The thickened home control is made of strong load-bearing capacity.
2.Advanced baking process, not easy to rust off paint.
3.Selection of high quality roller skating, to ensure that the push and pull easy no noise.
4.Unique design style, beautiful at the same time, save space.
5.This window and door display rack can display samples in all directions, allowing customers to have a better experience.
6.Simple and elegant appearance, brief introduction to enhance the grade of the sample.
ABOUT US
Xiamen Yeks Industial&Trading Co.,Ltd is a displays enterprise include design, production, sales and services. The company was originally founded in 2005.
We have our own professional manufacturer mainly supply display stands for tile, stone(marble/quartz/granite), wood flooring, mosaic, carpet,wooden door and other building materials. Our main products are tile display racks, stone display racks, wood flooring displays, wooden door display racks, etc.
Aim at creating a brand path of Chinese display industry is our goal. With many year's efforts of all stuff, we have provided the better display solutions for any our partner at home and abroad. We sincerely hope to provide you with the best display solution. Please contact with us.
Key word : door display rack,door display stand,wooden door display rack ,wooden door display stand ,window display rack, window display stand,
Wood door display rack door display rack window display stand is designed to display the wooden door samples in a small footprint. This style of showcase brings a focus to your product. We manufacture according to your sample size and thickness, display as many samples as you need, and then choose your color. As with all of our door display rack , this idea can be extended or minimized to meet your specific needs. This style is perfect for the show ( stone, marble, granite, tile, carpet, wooden door, or hardwood)