China Hanging Painting Display Rack For Showroom Uesd
A hanging painting display rack is a type of storage or display unit that is specifically designed to hold and showcase paintings, pictures, and other forms of artwork. This type of display rack is ideal for artists, collectors, and enthusiasts who want to showcase their artwork in an organized and attractive manner.
There are several different types of hanging painting display racks available on the market, each with its own unique features and benefits. Some are designed to hold a single painting, while others can hold multiple paintings at once. They can be made from various materials, including wood, metal, and plastic, and may be available in a range of sizes and styles to suit different preferences and needs.
One of the key benefits of using a hanging painting display rack is that it allows for easy organization and storage of artwork. Rather than stacking paintings on top of each other or leaning them against a wall, a display rack provides a dedicated space for each piece, which not only makes it easier to find and access specific paintings but also protects them from damage.
Additionally, a hanging painting display rack can be a great way to showcase artwork in a professional and visually appealing way. By arranging paintings in a specific order or pattern on the display rack, collectors or artists can create a cohesive and aesthetically pleasing display that will catch the eye of viewers and enhance the overall impact of their collection.
Overall, a hanging painting display rack is a versatile and practical tool for anyone who wants to store or display their artwork in a safe and visually appealing way. Whether you are a professional artist, a collector, or simply an enthusiast, investing in a high-quality hanging painting display rack can help you protect and showcase your artwork for years to come.
| | |
| --- | --- |
| Material: | Metal,plastic,wood,MDF or Custom |
| Size | customized |
| Color: | Black, white, grey, etc or Custom |
| Usage: | Advertising,  Display, Exhibition, Promotion for ceramic tile |
| Surface Treatment: | Polishing, Powder Coating, Painting Etc or Custom |
| Sample Cost: | 3 Times of Quotation |
| Sample Time: | 7~10 days |
| Production Time: | 20~30 days |
| Packing: | Use bubble pack, stretch film, strong export carton, and pallet packing. |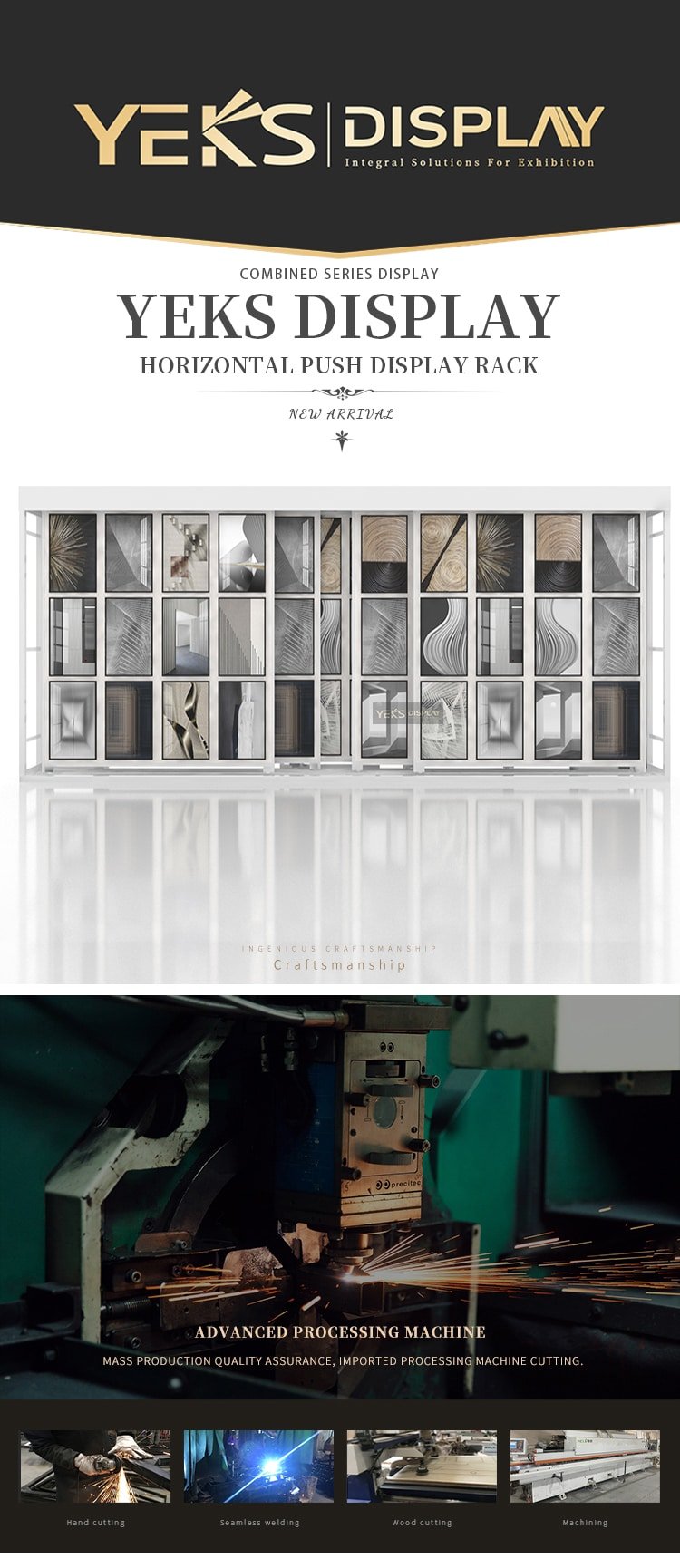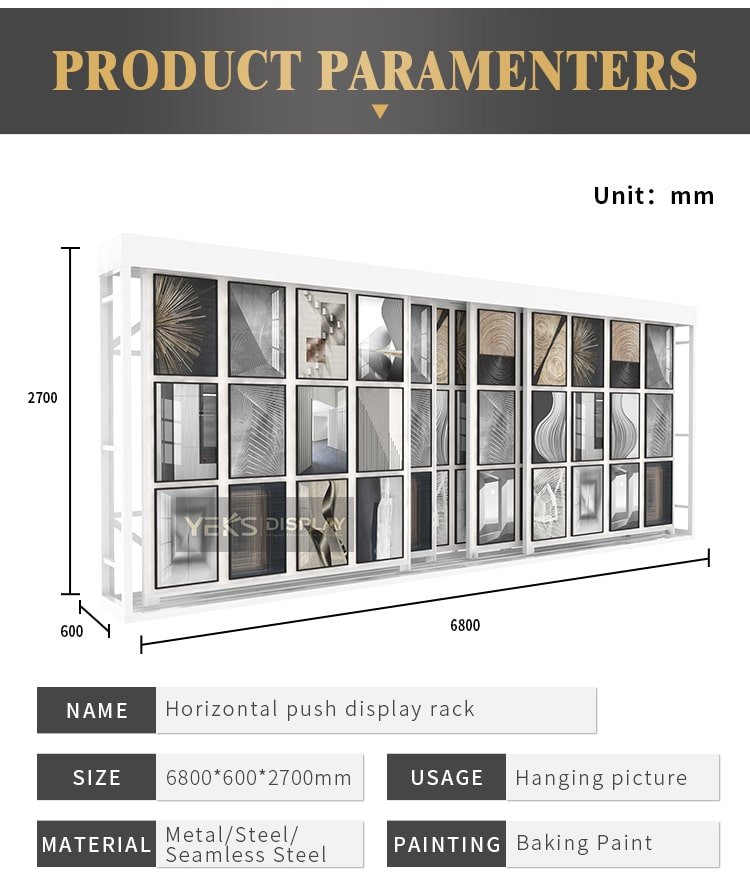 Product Detail
2.0mm thickness steel tube.
Polishing, powder coating, painting etc or custom.
Seamless welding technology.
The display rack adopts a high-quality pulley, the wheel pushes the wear-resisting smooth without noise, prolongs the service life.
Rail material: stainless steel/aluminum.
Easily assemble the tile display rack and load the products.
Usage
Painting store.
Painting store showroom.
Painting fair or exhibition.
Painting show.
Remark
The thickened home control is made of a strong load-bearing capacity.
Advanced baking process, not easy to rust off paint.
Selection of high-quality roller skating, to ensure that the push and pull easy no noise.
Unique design style, beautiful at the same time, save space.
This tile display rack can display samples in all directions, allowing customers to have a better experience.
Simple and elegant appearance, brief introduction to enhance the grade of the sample.
If you want to know more products, please click here.
FAQ
Q1: I am interested in the hanging painting display racks in your picture,can you give me a quote?
A: Thank you for your inquiry. Because all our designs are 100% customized to meet your requirements(including dimension, color, logo,etc.), so there is not a fixed price.
Therefore In order to give you the best offer, pls tell our customer services your detailed information.
Q2: We've ever seen a display racks and but I can not find the similar design in your website, if I send you the pictures, can you produce it for me?
A: Yes, if only you you told us your product size, we can make the design and produce it for you.
Q3: I want to order a display racks from your side, but I don't know how to install it, is it complicated?
A.: All of our display racks is freestanding design, that means you don't need to install or just need a very simply installation works, and we will send you the installation guide about it, so pls don't worry.
Q4: Can you provide with us the sample for trail?
A:Yes, definately we can provide you with the sample, and we are confident that you will like it.
5.Q: What is the MOQ?
A: It based on the design.
6.Q:What is the delivery time?
A: It depends. Generally 2-3 weeks after confirmed the drawing.